Description
Private crochet session, any level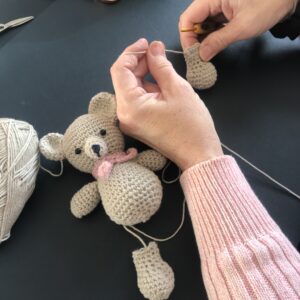 Start or continue your crochet journey with (a) private crochet session(s). Every session will take 1 hour and is completely adapted to your wishes and speed. Do you want to learn certain stitches, are stuck with a project or want to learn how to read patterns? This is the perfect way to learn what you want!
Between sessions I am offering free online help: If you get stuck with practicing the stitches, forgot a certain technique etc … just contact me and I will do my best to get you going again.
These sessions are suitable for any level: beginner, intermediate and advanced.
During the first session, after an short intake and introduction, we will decide what you want to learn and how many sessions will be needed/ are possible. You will also recieve a short health and safety briefing.
The private crochet tuition takes place in Eltham/ South East London.
All sessions need to be paid in advance.
If you want to purchase a crochet starter kit, you can do this here.