Description
Online – Private crochet session (E, NL, D)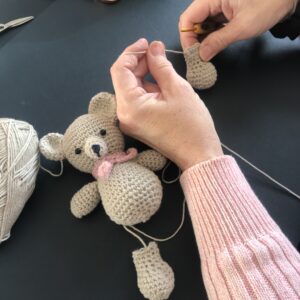 Bring out the crochet artisan in you and learn how to crochet! The most adaptable way to do this is signing up for private crochet tuition, which is also offered online.
The classes can be held in either English, German or Dutch.
Every online private crochet session will take up to 75 minutes. We will use Zoom. After a short intake and introduction, we will decide what you want to learn and how many sessions will be needed/ are possible to achieve it. You will also receive a short health and safety briefing.
The crochet sessions are suitable for beginners or advanced crocheters, for adults and kids. From my experience children aged 7 and above can learn how to crochet this way, if they are accompanied by a parent.
The session needs to be paid in advance.
Online – Private crochet session (E, NL, D), how it works
After agreening on a date/time, I will send you an e-mail with the Zoom meeting details.
If you never used Zoom before, just click on the link and the installation process will start. There is no account needed, Zoom is free for you to use (if you need help, please contact me).
If you wish to purchase yarn or crochet hooks to use during the sessions, please contact me and I will send them to you a.s.a.p.
On the day of the session, just click on the invitation link again and we will start.
Cancellation and Refund Policy for private sessions
Cancellation up to 4 days prior to class 50% refund will be made, between 2 and 4 days prior to class a 25% refund will be made.
Cancellation less than 2 days prior to class: no refund will be made (full or in part).
HookedOnCrochet.net reserves the right to cancel any class up to 14 days before the starting day.  In this event the class will either be rescheduled OR a full refund will be made.